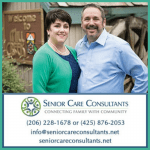 Business Description
From learning about the stages of aging to assistance in evaluating the right senior living community, we're here to guide you and your loved one along the way.
You're making some of the most important decisions of your life – and Senior Care Consultants will guide you every step of the way. We'll help you navigate the complex choices of senior care, offering an individualized, supportive and compassionate process to finding the best senior care option for you and your loved one.
Our service is offered at no cost to you, and we work with all levels of senior care in the Puget Sound area. We take great pride in recommending communities that not only meet the specific needs of you and your senior, but also excel in the quality of care provided.
Our process starts by evaluating the level of care needed based on the diagnosis and care requirements of your family member. We'll help you understand your financial position, and work with communities that match your budget. For seniors needing care, we'll arrange a medical assessment, ensuring that we recommend options that meet the medical and individual care needs of your loved one. Based on our evaluation, we'll set up personalized tours of the communities that best meet your needs, accompany you during your tour to be sure all your questions are answered, and leave you with a thorough understanding of what each community has to offer.