The Mill Creek Chamber of Commerce Is Proud To Support Scholastic Achievement In Our Community!
Committee Members:
Scholarship Program
Since its very beginnings, the Chamber has been committed to encouraging and assisting local high school students in their pursuit of higher learning in Business or a field in which they would like to pursue a career in business. The Chamber is offering four scholarships of $2000 each to graduating seniors. All are open to students who are goal-oriented toward business, regardless of their actual majors.
Information Sheet: Printable Scholarship Application
Questions? Contact: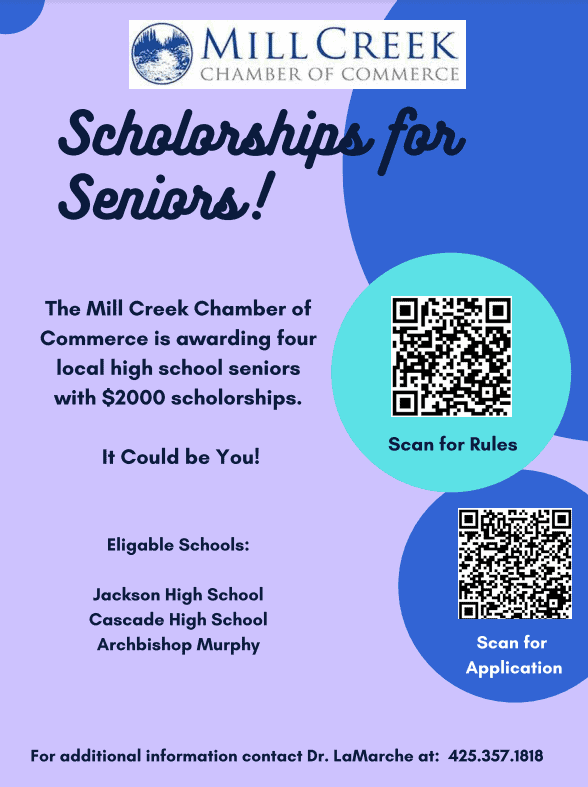 Application Criteria
Applications are open for the current school year and are due
no later than May 2nd, 2023. 
Applicants must:
live in Mill Creek and/or attend school at either Cascade High School, Jackson High School, Cedar Park Christian School, or Archbishop Murphy, and be a senior in good standing at the time of application.
be accepted to attend a full-time accredited College, University or Fine Arts School.
be planning an academic course of study in the field of their choice, but plan to pursue a career in business.
submit ALL of the following materials under "How To Apply" together to the Scholarship Committee by May 2nd (DEADLINE):
How to apply
Typed application form (Printable Scholarship-Application)
Two letters of reference and recommendation from teachers, advisors, and/or local business people (cannot be a relative).
Copy of the letter of acceptance from the institution they plan to attend.
Typed Essay (less than 200 words about their academic and career plans).
Facebook Feed
[fts_facebook type=page id=61641741911 posts=1 height=400px title=no title_align=left description=no words=45 popup=no posts_displayed=page_only]