Monthly Lunch & Learn
September 17, 2019 @ 11:30 am

-

1:00 pm
Where: The Forum, Forum Dental Office Meeting Room
When: Tuesday, September 17, arrive around 11:30 a.m.
Lunch cost: $10.00 for members and $15.00 non-members.  Lunch provided by Panda Express.
You can also pay for all of this year's lunches a discounted $90 rate on the Chamber site!
Speaker:  Greg Elwin, Chief of Police in Mill Creek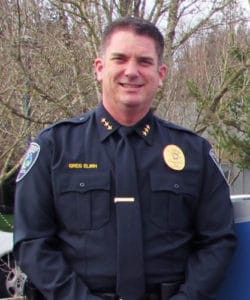 Greg Elwin has been Chief of Police in Mill Creek since early 2016. Greg came to Mill Creek after working in law enforcement for 26 years in the South Sound, 21 of those with the Thurston County Sheriff's Office. In his career, Greg has worked nearly every aspect of law enforcement, including traffic, investigations, marine patrol, search and rescue, undercover operations and administration. Since joining Mill Creek, he has led programs to bring police motorcycles to town, evolved and grown the K9 program, expanded the school resource officer program and began the work to bring state accreditation to the MCPD. In addition to his law enforcement experience, Greg began his public safety career at 18, working for several years as a resident firefighter in Lacey, part-time 911 dispatcher for Thurston County and as an inspector for the Fire Marshall's office.
Greg has completed the International Association of Chiefs of Police (IACP) Leadership in Police Organizations, the FBI Law Enforcement Executive Development Association's (LEEDA) Trilogy and holds his Law Enforcement Executive Certificate from the Washington State Criminal Justice Training Commission (CJTC).
Greg is President of the Snohomish County Sheriff and Police Chiefs Association (SCSPCA), Co-Chair of the Washington Association of Sheriffs and Police Chiefs (WASPC) Small-agency committee, Executive Board Chair for North Sound Metro SWAT (NSMS), Executive Board Member for Snohomish County 911, Big Brothers-Big Sisters of Snohomish County Board member, member of Fight Crime – Invest in Kids, and charter member of the Kiwanis of Mill Creek.
Greg lives in town with his wife Stephanie and their blended family that includes 5 kids and two (soon to be three) grandkids. Recreation time for Greg and his family includes spending time on their boat, Family Ties, as well as cruising the countryside on a motorcycle. With family ranging from nearly one-year-old granddaughter to a 30 year-old son, family activities and school sports are central to how Greg and the brood spend their time.
Greg is passionate about public service and understands that our police officers are the most visible ambassadors of government. This brings great responsibility and sets the expectations for service very high. Greg pledges to meet the slogan on the Mill Creek police cars – At your service.