Memorial Day Parade 2020
May 25 @ 11:00 am

-

4:00 pm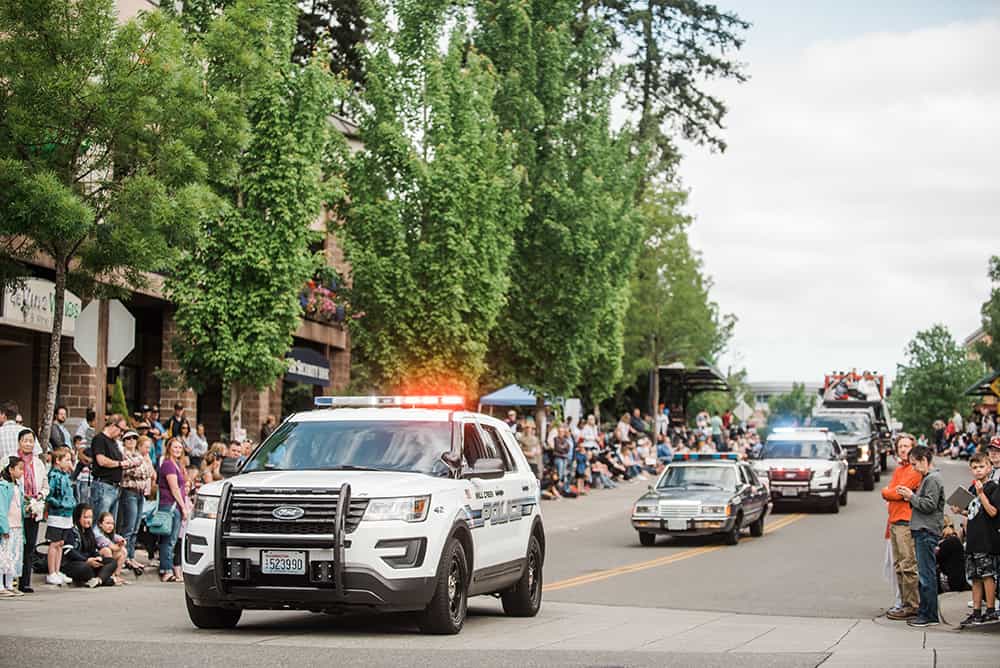 Sign up to Participate in the 2020 Memorial Day Parade 
 – 
Apply Here
Monday, May 25
11 a.m.
Main Street in Mill Creek
(Between LA Fitness,15024 Main St., and City Hall North, 15720 Main St.)
More details
www.MillCreekTourism.com
Join the Mill Creek community in honoring those who have died in active service to the United States at the largest Memorial Day parade north of Seattle.  The emcee will be located by University Bookstore (15311 Main St / corner of 153rd Street SE).The Grand Marshal of this year's parade is the USS Ralph Johnson Sailor of the Year, Fire Controlman First Class (Surface Warfare) Ross D. Woody.Military and veteran groups, community groups and other entrants in the parade include:
1925 Fort Model TT Truck
1928 Ford Roadster
1934 Chevy Coupe Hot Rod
1934 Ford Pickup
1938 Olds Bus Coupe
1945 MB with 82nd Airborne Markings
1951 Chevy Sedan Street Rod
1952 Dodge Radio Command Truck
1955 Strawberry Truck
1961 Pontiac Ventura
Air Force Recruiting
American Legion Post #127 Honor Guard
AMVETS
Bothell American Legion Post #127
Bruins Youth Cheer
Cub Scouts – Boy Scouts of America Pack 66
Everett Public Schools NJROTC Color Guard
FV433 British Abbot Tank
GI Foundation
Girl Scouts – Unit 222
Kamiak Youth Cheer
Kitty Llama Love
Mill Creek Community Food Bank
Mill Creek Little League
Mill Creek Police
Mill Creek Police Car 410
NW Vietnam Korean Veteran Association
Overlake Composite Squadron, Civil Air Patrol
Pink Zebra Cheer
Puget Sound Honor Flight
Reflections School of Dance
Safe Splash
Snohomish County Emergency Radio System (SERS)
Snohomish County Fire District 7, Honor Guard
Snohomish County Fire District 7, Engine 76 and Ladder Company 72
South Snohomish Police Honor Guard
USS Ralph Johnson Crew
The public is invited to visit display tents along Main Street that have historical memorabilia from the NW Veterans Museum from World War I, II, the Korean War, and Vietnam War. There also will be static displays of antique military vehicles along Main Street to give attendees something to look at between the commemorative ceremony and the parade.
Traffic access will be impacted in preparation for the parade.
Main Street between 148th Street SE and City Hall North will close for parking between 10 a.m. and noon.
The northbound turn lanes on Bothell-Everett Highway will be blocked off at 151st Street SE, 153rd Street SE and 156th Street SE at about 10:30 a.m.; southbound traffic can still make right-hand turns onto those streets.
153rd Street SE will be blocked to through-traffic at about 10:45 a.m. and will reopen after the parade goes by.
From Mill Creek Blvd, traffic can turn north on Main Street, but will be diverted to an access road south of Run 26.
Finally, the north LA Fitness parking lot will close at 6 a.m. for parade staging; patrons can park in the south lot, but are advised that once the parade starts, access in and out will be temporarily stopped.
Consider taking the Swift Green Line to Mill Creek Town Center! Exit at the 153rd Street SE station along the Bothell Everett Hwy (SR 527), and walk one block west into the heart of Mill Creek Town Center.
Sign up to Participate in the 2020 Memorial Day Parade  – Apply Here
---
AMVETS Post #2018 – Mill Creek veterans have organized an American Veterans Post. The Post is open to all active duty, reserve, retired and discharged veterans. If you would like more information on the post, please fill out this form and one of the members will contact you.