Journey Dementia Family Caregiver Conference 2023
March 25 @ 9:00 am

-

4:00 pm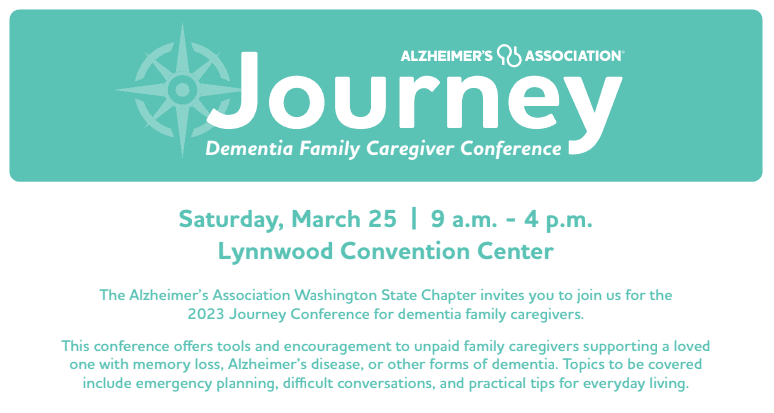 March 25, 2023 | 9 a.m. – 4 p.m.
Lynnwood Convention Center
The Alzheimer's Association Washington State Chapter invites you to join us for the
2023 Journey Conference for dementia family caregivers.
This conference offers tools and encouragement to unpaid family caregivers supporting a loved one with memory loss, Alzheimer's disease, or other forms of dementia. Topics to be covered include emergency planning, difficult conversations, and practical tips for everyday living.
• • • • • • • • • •
Session Schedule
Keynote Address: Author & Speaker, Carolyn Birrell
Session 1: Emergency Preparedness with Snohomish County Search & Rescue
Session 2: Advancing the Science: The Latest in Alzheimer's & Dementia Research
Session 3: Connecting Through Art & Music
Closing Remarks: Bryan Haakenson, Alzheimer's AssociationWashington State Chapter Board President
Registration (PDF FORM)

Please email completed registration forms to JourneyFamilyCaregiverConf@alz.org
• • • • • • • • • •
Keynote Address

Carolyn Birrell, Author of Walking with Fay: My Mother's Uncharted Path Into Dementia
Carolyn Birrell retired to Bonners Ferry, ID, after spending 20 years in Atlanta, GA, working for the American Cancer Society and then as a real estate agent. Soon after her move, she relocated her aging mother to be near her and spent the next eight years caring for her while learning "all things dementia."
What began as a written collection of her mother's difficult behaviors during dementia's earliest stages quickly turned into a comprehensive book that she continued to update until the inevitable end of her mother's disease.
• • • • • • • • • •
Questions?
Email our team at JourneyFamilyCaregiverConf@alz.org or call 425.654.0947