First Responder Resource Fair
October 6 @ 8:00 am

-

3:00 pm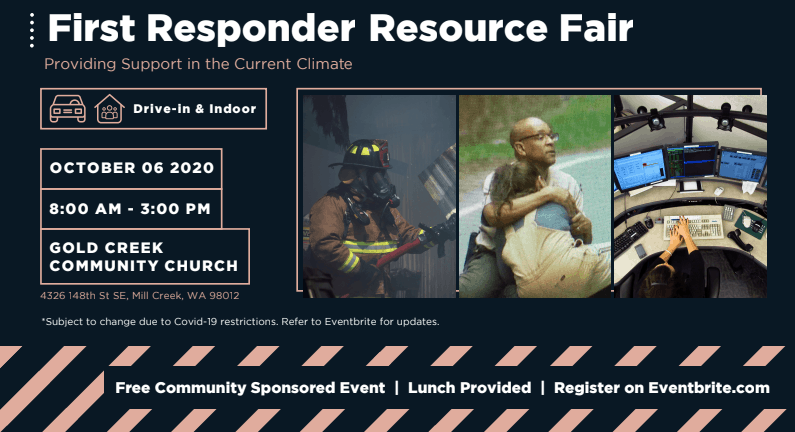 Hello Members,
It is probably an understatement to say these are trying times, but especially so for our first responders who are in the thick of it everyday. Please support this event hosted at Gold Creek Community Church on October 6th for the benefit of our local heroes.
Thank you,
Kevin Giboney
President
Mill Creek Chamber of Commerce
To Whom it may concern,
I am looking for financial support for First Responders with donations to help with the cost in preparing for this event on October 6, 2020.
What is a Resource Fair for Peer Support all about?
It is a one day event where people learn what resources and organizations are available to help First Responders who may be in crisis, after responding to horrific and traumatic events.
Who is eligible to attend this event?
This event is for trained Peer Support personnel,
Chaplains representing First Responders, Command Staff of Police and Fire Agencies, and Administrators of First Responders.
Peer Support has been extended to Dispatchers and Administrators, Corrections Officer and Staff members, and Support staff of First Responders.
We would love for people who are interested in Peer Support, as well as agencies who need to start Peer Support programs to attend. Please review the attached Flyer for more information on this event.
Sincerely,
Deputy David Sorenson
Snohomish County Sheriff
425-754-5016
First Responder Resource Fair
Providing Support in the Current Climate
Drive-in & Indoor
OCTOBER 06, 2020 8:00 AM – 3:00 PM
4326 148th St SE, Mill Creek, WA 98012
Free Community Sponsored Event | Lunch Provided | Register on Eventbrite.com
*Subject to change due to Covid-19 restrictions. Refer to Eventbrite for updates.