Custom Picture Framing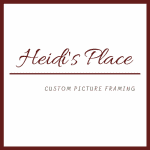 Business Address:
2613 189th Street SE Bothell, WA 98012
Business Description:
Heidi's Place Custom Picture Framing brings unsurpassed quality and design to the art of picture framing. No matter what your choice of art, Heidi's Place can create a look that fits your unique style.
Heidi Butz has been a professional picture framer for over 20 years and has a Bachelor of Fine Arts degree. This ensures you get the best in design and color to compliment your art piece. We know your time is valuable, so Heidi's Place provides you with a personal appointment in our studio. You have one on one time with us, so we can give you the personal attention you deserve. Contact us for your personal appointment.